Dynamic, refreshing and full of life, ArtSpritz is an aperitif with low alcohol content based on
orange and infusions of herbs and spices.
Excellent as a base for cocktails and aperitifs. Ideal to create delicious glasses of spritz cocktail!
Liqueur to create your spritz
Alcohol content:
11% by vol.
Colour:
light orange with red reflections
Bouquet:
strong orange bouquet expressed in different notes empowerded by
gentian and other bitter aromatic spices
Flavour:
sweet, full, persistent very rich in pleasant fruity fragrances
Serve with:
the
most known recipe recommends to mix on the rocks: 40% ArtSpritz,
60% Tosti1820 Prosecco, seltz and garnish with an orange peel. Try it also straight
or on the rocks for a new experience
Try ArtSpritz Ready, the spritz cocktail already mixed made of ArtSpritz, white wine
and selz. ArtSpritz is lively and ready. You won't need the opener to taste it, simply
pull the tab and pour two glasses.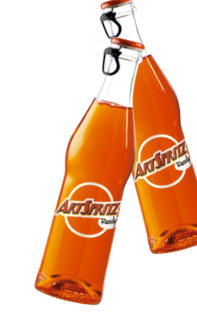 Alcohol content:
9% by vol.
Colour:
intense orange with bright reflections
Bouquet:
strong scents of orange and bitter aromatic herbs, amongst
which Gentian, Rhubarb and Cinchona
Flavour:
bittersweet with fruity notes, palatable and fizzy
Serve with:
add just some ice and an orange slice and you have two
delicious spritz cocktails to be enjoyied anytime!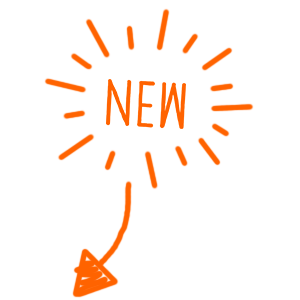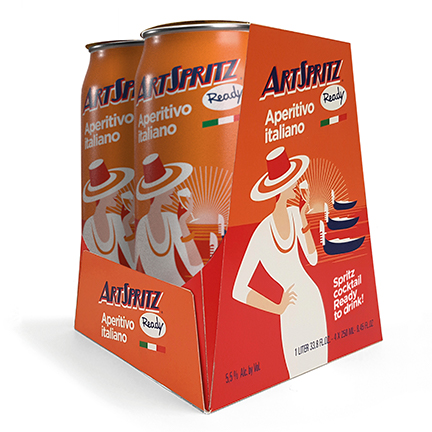 Discover the new ArtSpritz Ready can, the Spritz aperitif already mixed made of
ArtSpritz, white wine and selz in the practical can.
Try the new four cans packaging, perfect to share with your friends the famous
Spritz cocktail wherever you are.